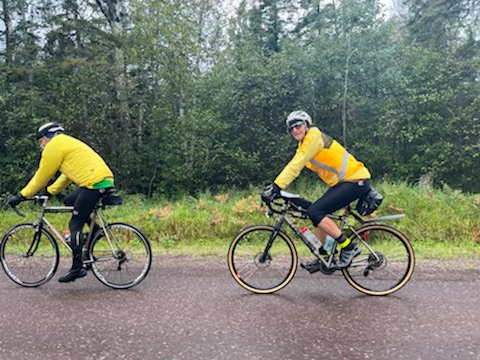 49th Annual Copper Country Color Tour
September 30th, 2023 | 8:00am R.L. Smith Building (MEEM)
Everyone is invited to participate! While this event is hosted by the Copper Country Cycling Club at Michigan Tech, we invite anyone interested to enjoy the event; whether you are involved in the Michigan Tech community or not.
Information
The Copper Country Color Tour is an annual scenic ride hosted by Michigan Tech's Copper Country Cycling Club (C4). Enjoy riding along the pristine shores of Lake Superior and through colorful forests.
The event is on Saturday, September 30th. Registration and packet pick-up will be from 7:00-7:50am outside of the R.L. Smith Building (MEEM) on the Michigan Tech campus.
The rollout through downtown Houghton is at 8am.
Routes
Routes are available for a variety of experience levels. 60K route goes Calumet, 115K route goes to Gay and Allouez, with the 210K route going all the way to Copper Harbor.
With up to five separate food stops, you will be properly nourished throughout most of your ride.
The riders going to Copper Harbor will be greeted with pasties at Keweenaw Adventure Company, courtesy of Roy's Pasties and Bakery.
Click the links below for the Strava routes for each ride:
Lodging
Click the link below for a list of nearby lodging options for Houghton.
Donations
Donations are always appreciated! All proceeds go to the Copper Country Cycling Club. To learn more and donate, click the link below.