The Copper Country Cycling Club is proud to announce the 40th annual Copper Country Color Tour, to take place on September 28th, 2013 in Houghton, MI.
Join us for a 50k, 100k, or 200k ride around the scenic Keweenaw Peninsula in peak color season! Since the tour is officially "over the hill" now, we will be making this tour one to remember!
Register by September 18th and Save!
What makes this year's tour special:
-       After-party at the KBC Come share ride stories and enjoy pizza at the Keweenaw Brewing Company ($7 day-of or free with pre-registration)
-       Printed swag bags When/if it warms up during the ride, drop off your gear in a fancy swag bag for the sag wagon to collect!
-       Jerseys 40th Annual Color Tour jerseys available! ($65 pre-order guarantees a jersey)
And as always, you can expect to see:
-       50/100/200k Routes All routes have bright yellow direction signs so no one gets lost!
-       LOTS of Food Five separate rest stops to keep you satiated throughout the ride
-       Pasties in Copper Harbor
-       Free T-shirt
-       Sag wagons Just in case!
Where the money goes:
This event is the Copper Country Cycling Club's major fundraiser, and the money will be used to send students to races, organize fun events on campus, and help build and maintain our local trails.
40th Anniversary jerseys:
Commemorative jerseys will be available for the event. Order by August 1st and we'll have it for you at the event. We will accept jersey orders through event day and will ship you then about 8 weeks after the event.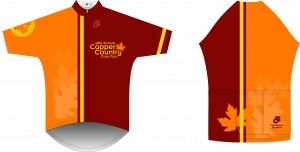 Routes:
Thanks to MapMyRide, we now have maps of all the Copper Country Color Tour routes.
200km route w/o Brockway Mtn.:
http://www.mapmyride.com/routes/view/129674985
200km route with Brockway Mtn.:
http://www.mapmyride.com/routes/view/129681229
100km route:
http://www.mapmyride.com/routes/view/129684621
50km route:
http://www.mapmyride.com/routes/view/129718425
Maps:
Download a map and directions here.
Registration:
Registration is available online and on-site. A free pass to the after party is included when you pre-register, and it helps us buy the right amount of food for the event! For those that do not pre-register, on-site registration will be available Friday, September 27th, from 6-9pm, and from 7-8am on Saturday before the ride leaves.
The first 100 riders will get a custom printed Swag Bag

Order a Jersey by  August 1st to receive it on the event day
Register by September 1th to receive a free ticket to the After Party (a $7 value)
Register by September 15th to guarantee an event t-shirt in your size
Lodging:
If you are looking for lodging in the area, Super 8 has generously offered a block of discounted rooms for color tour riders. Call and mention this ride before August 17  to receive the discounted rate.
Super 8 Houghton
1200 E. Lakeshore Dr.
Houghton, MI 49931
(906) 482-2240
Event Day:
The event is September 28th. Registration and packet pick-up will be from 6:00-8:00pm Friday the 27th and 6:30-7:50am Saturday the 28th. Both of these registration opportunities will take place inside the front entrance of the MUB building on campus.  The roll out through downtown Houghton is at 8am.